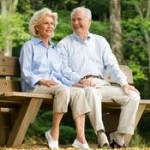 Are over 50 and having a hard time getting a life insurance plan? I can imagine the difficulties you experience in securing one for yourself. A lot of insurance companies are very particular about the current state of your health and will ask you to go through a medical check up before anything else. This is because of the fact the people's health tend to start deteriorating once they reach the age of 50, which is a huge factor that insurance companies consider when you apply for a conventional life insurance plan.
Don't fret because there is actually a solution to this problem. You can apply for an over 50 life insurance plan and even get a guarantee that you will be accepted. This insurance plan is especially available for retirees or seniors and is designed to meet their needs. Why do you need to get a life insurance plan in the first place? If you have a life insurance policy, you will be taking care of the finances of your family when you are no longer with them. You take away the cost of funeral expenses from your children or grandchildren as well as clear your debts.
First thing to do when looking for you over 50 life insurance plan is to go online and make a quick search. Make a shortlist of about two to three companies and ask them for quotes. The life insurance quotes usually come for free and you only need to provide them with very little information. It may not always be the most accurate quotes but you will get an idea of the market rates. It may be worth talking to an insurance agent too since they know the best plans for you, but their rates may be a little higher. Once you have all information from your online research and insurance agent, you will have the ability to identify which life insurance plan will work best with your budget.
Now how do you get better rates for your life insurance premiums? If you think you are still very healthy, prove it to your insurance company. Go through the medical exam so they can see how fit you still are and you will most probably get a discount. You will also get some discounts if you are a non-smoker. When you shop for life insurance for people aged 50 plus, you will really get
expensive rates compared to the premiums you used to pay when you were younger so don't expect a very huge discount.
The guaranteed acceptance life insurance is also available for seniors but expect to pay a high premium for this. This plan covers you for the rest of your life without you having to go through a medical checkup. However, your family will only get the full benefit if you leave them because of an accident within two years after purchasing the plan. Your survivors will only get the limited amount if you pass away within two years out of natural causes.
Take time to review what life insurance plan will be the best for you and your family.