A perfect choice for petite females
If you are thinking of purchasing the golf girl petite club set online you won't be disappointed.  I am sure that you will not only find them cute but very practical too.
And hopefully your purchasing experience will be a good one. Also  when it arrives you too will boast that this golf set exceeds your expectations. Reviews show that they certainly have for a lot of other buyers.
The golf girl company specializes in providing quality golf equipment specifically for women.  So it's no surprise  that '"delighted" seems to be the response of many happy purchasers.  Check out The Golf Girl FWS2 Petite Lady Pink Hybrid Club Set and cart bag.
Petite golf clubs are perfect for total beginners too!
Are you a total beginner golfer or someone that's getting back into golf after a break?  Or
if you are looking for a great gift for a young girl or petite golfer you need to read this review. Having the right set of clubs like the golf girl petite club set that is just perfect for your size is a real advantage.
And clubs that are too long for you can actually affect your posture and swing. Also this can be most discouraging and could totally spoil the game for you.
Get golf clubs that are a good fit
If you are under 5'4" or a beginner golfer this Golf Girl Pink Set with Cart Bag
is definitely worth checking out.  Sometimes it can be a challenge to find a great set of golf clubs that are a good fit.
Plus if you do manage to find a set that feels right you might expect that they would be more expensive. But this is not the case with these petite golf girl clubs.
If you are a Lefty… no problem they have it covered check it out Golf Girl FWS2 LEFTY
So if you are a petite lady golfer, or new to golf your search is over.  Also for those looking for a great set of golf clubs for your wife, mother, daughter, or any other petite female at a reasonable price.  You really should check out this pink golf set. When you see what other users have to say you will see that  this  petite golf set come highly recommended.
 This is what you get with your golf set:
460 cc oversized driver with graphite shaft
5-6-7-8-9 irons
3 wood
3/4 hybrid with graphite shaft
Zippered head covers
Putter
Deluxe cart bag
This is the latest set from Golf Girl and the petite golf girl clubs have some great features. they include the oversized driver that has the largest sweet spot legally permitted.
Plus the 3/4 hybrid is great for the distance shots.  Also the deep cavity back irons are more forgiving and easy to hit with.
And the deluxe cart bag is perfect for women as it is light weight.  It also has plenty of pockets including a full length clothing pocket and a pocket for your valuables.
Lightweight golf clubs are a real bonus
On a personal note I've used graphite shafts for a number of years.  And I love my clubs  with the graphite shafts, because of the lightweight material graphite is ideal for women.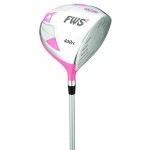 You may be surprised that this complete Golf Girl FWS2 PETITE Lady Pink Hybrid Club Set & Cart Bag
costs less than many golfers pay for one driver. And besides that most users are blown away by the quality  and performance of these clubs.
Even some veteran golfers that try these clubs are impressed with them. They are light weight and well balanced.  And besides the great value that's provided they also look really good. So even if you are way past the beginner stage you will probably love this golf set.
This set comes highly recommended by numerous satisfied purchasers.  They make an excellent gift for Christmas, birthdays and all other gift giving occasions or just because… If you are like the majority of people that purchase this set you will be delighted.
A welcome gift for the shorter woman golfer
Husbands have purchased them for their wives to encourage them to learn to play so that they can enjoy this activity together. Parents have bought them for their children to encourage them into a great sport.  And golf is something to do together as a family. Everyone has to start somewhere and this is by no means a set to be ignored.
Also  Check out below what others users are saying about this gold set.
The Golf Girl FSW2 Lady Pink Hybrid Club Set & Cart Bag is available in the US and in the UK .
Following is a sample of buyer feedback on the golf girl golf club set.



I bought this set for my wife for Christmas last year. I was hoping that it was just OK as the price is so reasonable. Imagine my surprise when we got it and it is a great set. Nice balance and really an exceptional buy.
I can't figure out how they can sell these clubs so reasonably. Buy it you won't be disappointed. My wife is a new golfer and she hit the ball well right from the start. And I think the reason is the clubs are made well. I hit her 3 wood and really got off a good shot. Very impressive – a great buy. A very good starter set.
My husband bought these for me as a starter set. Very nice clubs and bag. If you are under 5'4″ you will love these :).
I received the clubs and so far I'm loving them. And I think they look great, and I'm learning to golf with them……love the driver! I think this is a great starter set and my golfer husband says it was a great deal. He was impressed with them also.
I purchased these clubs based on a review and Boy Oh Boy am I glad I did!!! These clubs are the sweetest! They are light weight and nicely balanced. The first time I used them I dropped 9 strokes! I would recommend these clubs to anyone, beginner or experienced. You won't be disappointed.
I am a newbie to golf and just wanted an inexpensive set of clubs for a petite person. This set is of great quality and fits the bill. The bag is very attractive and durable as are the clubs. I am very happy with this purchase.
These are too cute!! I brought these golf clubs I wanted to be more active outside. Also I started taking golf lessons. I'm 5'1 1/2″ and I weight about 105 lbs. These golf clubs are light weight. There are pockets everywhere so there is no need for you to keep your keys in your pocket while you are the driving range.
Love these clubs! They are soo girly and much prettier in person! LOVE! I can actually get distance and they are in good quality. I am a first time beginner and these are perfect! Now for lessons…
I am getting ready to start playing golf, but at this point I have only been to the driving range with my husband. I am 5′ 3″ tall, and these clubs are just the right length for me. My husband plays a lot of golf and he hit with them, and said that they were really good clubs, and the price was just an added bonus. I did very well with them at the driving range, and am looking forward to actually playing golf soon. I also like the color of the bag, and the covers that came for the drivers.
*I have been a golfer for 30 some years. Had custom made clubs twice. I haven't been playing as often as I used to and the $800 clubs are worn out. I thought I would purchase a bag and when I came across this set with clubs included. I decided to read the reviews. Due to the great reviews. I purchased the set. I was so surprised. The bag itself is great. Doesn't look cheap, has all the pockets you need. It has sections for the clubs that continues the whole way to the bottom of the bag for protection. Unlike my more expensive bag. I took the clubs to the driving range last night. Don't feel any different than my Taylor Made clubs. Well, worth the purchases, new golfer or old (as myself) golfer.
From these reviews I think you'll get a good feel for what other buyers are saying.
If you want to buy this Golf Girl Golf Set click here
you can get them on sale through this link.
 I hope this review has been helpful!