When the economy forces retirement life plans to change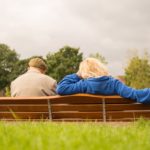 With the constant changes in the economy many are forced to changing their retirement plans. The past years brought about a lot of hardship for many people. Many lost pensions, investments, homes and their jobs.
Also many seniors are forced to work much longer than they ever intended.  Some are finding they have to postpone or trim back on the life they had hoped for in retirement. It's always wise to start planning for your retirement at an early age.
But when people are already struggling to make ends meet it's not always possible. So it's important to do what you can as soon as you can to prepare for the future.  Old age and retirement comes around pretty fast whether your ready for it or not.
Living life in reverse
It's almost like we live life backwards.  I think some young people have the right idea. Some people will say it's irresponsible, but is it? They've chosen to live life in reverse and live fully while they are young enough to experience it.
They are willing to forgo the student loans, the so called security of a house, car and all the trappings.  Instead they live in countries where the cost of living is lower. And where they can actually enjoy what life has to offer.
Some travel around living as inexpensively as possible. They find work as they go in order to support themselves. Many are following their passion by doing so many things and enjoying experiences that most will never have. So many of us are waiting for the right time somewhere in the future.
Often though that right times never does come, so we actually never get to do things we want. For most of us when we're young enough to enjoy many activities and travel we just never seem to have the time or the money.
There are those seniors that had decent careers and incomes that were able to have a decent pension. Many with investments, or have saved adequate funds for their later years.  However, when they reach retirement age with both the time and the money they still don't do it.
And it's often because they've lost  the desire to go traveling or to try new things.  Also a common issue is some are just no longer healthy enough or fit enough to enjoy it.
Travel and do things before you get too old
Travel has become more stressful than ever, especially flying. Going through airports these days is a nightmare most of the time. There are many seniors that one day just decide that they don't want to travel far any longer.  It all becomes too much of an effort and can be hard work when you get older.
So if there are activities that you want to participate in, new things you want to try, do them while you are still able. There is no denying that finances can play a big part in what you are able to do.  But as you reach your senior years don't let finances be an excuse to keep you from doing the things that are possible.
Finding new things to do could include, discovering ways to make some extra income to support some of the things that you still want to do.
Thinking of retirement over 50
If you are already retired, or planning to retire soon you will probably be thinking about retirement quite differently to someone that's in their 50s that's still working with a family to support.
Even so, for parents in their 50s you'll probably find that your nest will be empty before you know it.  So you still need to think about you, your life and future.  There are times in your life when you are more able to do and enjoy some things more than others.
Just keep in  ind that once plagued with arthritis, bad knees or hips or other debilitating conditions, life changes. You cannot and should not put everything off until tomorrow. Live Now!