Have you ever started to learn to play the piano but gave up before you mastered it? I wish there were courses around like learn and master piano when I was young and starting to learn to play the piano, although we didn't have DVDs and computers then either. Like me you may have started taking lessons as a child but had too many other things that you would prefer to be doing than practicing the keyboard and ended up dropping out.
When I was about 12 years old I started to take piano lessons but it was short lived. Of course I later wished that I had persisted. Back then for one thing I just didn't want to put the time into it. I thought that I had more important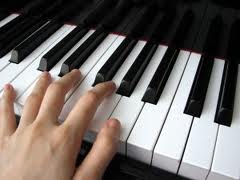 things to do. My situation is probably very similar to many of you. We were not well off so my parents couldn't afford a lot but they really wanted me to have piano lessons. A neighbor of ours was a piano teacher so one day my mother proudly announced that she had set up some lessons with her. I wasn't exactly thrilled about this but I went along with it. One of the problems was the only opening she had to fit me in for a piano lesson was 12.30-1pm Tuesday's which was during my lunch break from school. It would have been a different story had I had the access to a course like learn and master piano back then. I may have even become an accomplished piano player.
There were just too many obstacles at that time. It was a bit of a challenge to get home, have the piano lesson then eat on the run back to school for my afternoon classes. When I think of it now it's no wonder I didn't want to pursue it. Even so in the short time I attended lessons it had its benefits. I learned to play a couple of beginners classical pieces plus having to learn to read music took me to top of my class in my music that year, which was quite an achievement considering prior to that I was in the bottom half of the class.
Regardless of what age you are young or old here's your opportunity to learn to play the piano without all the obstacles you may have encountered in the past. The learn and master piano course in primarily designed for adults so no excuses! And if you say I don't have a piano or room for one even that needn't stop you with the great keyboards available today.
There could be a number of reasons why you may be thinking right now this is the time for you to learn and master the piano. Perhaps you have always wanted to do so but just never got around to it, you may have more time now to pursue your own interests, or you may already know how to play the piano but not to a level that you are happy with. Do you want to be a part of a rock band or other musical group? Or you may have been looking for a new hobby and this fits the bill. All of these are great reasons to learn and master the piano.
Do you tell yourself that you are just too old to learn? You already know the answer to this is that you are never too old! Now is the time because you are not going to get any younger so what are you waiting for?
Finding the right teachers and the right course that will take you from wherever you are now to an accomplished piano player whether you are a beginner or at an intermediate level. That's where the legacy Learning learn and master series has it covered whether you want to learn and master piano, guitar, drums, ballroom dancing, photography or learn to paint they have the ideal teacher.
I am fortunate to own a few of the legacy learning courses and I can only say it's an investment that you will not be disappointed with, you get the very best home teaching course for your money. Where else would you be able to get top Nashville musicians teach you to play an instrument? Prior to courses like the learn and master piano were around you would have to go to the local piano teacher to book your lessons, most likely one lesson a week and then hopefully get in some practice between lessons. This way you are getting top notch teachers and able to schedule your own lessons as often as you like and keep going over a lesson until you are ready to move on to the next one. Plus if more than one of you wants to learn to play the piano it's no problem when you have the course to share with them.
The Learn and master piano video instruction is a complete DVD course and the only tool that you need to walk you through the experience of learning to play the piano from start to finish. As soon as you receive your package containing the course and open the box you know that you have a quality product in your hands.
Your instructor for learn and master piano is Will Barrow a teacher in Nashville. He's also a singer songwriter and composer that has toured with and played piano for a number of major grammy winning artists in the US and other parts of the globe. Chances are you would never get an opportunity for a teacher of such high calibre in your local community.
You can be a total newbie and learn to play blues rock and jazz on the piano whatever your heart desires once you have the skill which you will achieve with the learn and master piano DVD course.
The learn and master piano course is simple to follow and interactive you can go at your own pace and not be pushed into trying to keep up. Once you feel comfortable that you have learned a specific part then you can move onto the next thing. This prevents you from getting overwhelmed and giving up out of frustration.
The course is comprised of 20 DVDs, 5 play along CDs, a 100 page lesson book plus there is access to continuing online support. The Learn and Master Series have a very active forum where students can share their experiences with each other and have their questions answered by the experts. You will realize that you are not alone as you read what others have to say about their learning experiences.
What type of music will you be able to play?
Rock, Jazz, classical, country, Blues, and boogie woogie etc. You will be playing popular songs and tunes that you already know right away such as Blueberry Hill and Let it Be.
Some of the things that you can expect from the learn and master piano course:
A real time animated keyboard that will show you exactly what is being played plus onscreen examples of keyboard concepts.
Easy to us menus
How to accompany a singer in a way that really compliments the lyrics.
How to develop your ear to hear the melodies and chord progressions.
Gain a solid foundation of musical understanding ranging from reading music to basic and advanced chord construction and improvisation.
Learn to play the piano in a simple step by step interesting approach
The play along CDs are fun and a great way for you to practice as you'll be jamming with an actual band.
Plus there's a lot more available in this course to make sure you learn and master the piano proficiently. It won't be long before you'll be able to impress your friends with your new talent.
There's lots of good feedback and great comments about the course from learn and master students. They say what an awesome teacher Will Barrow is and there is nothing they could suggest to improve this course and how it goes way beyond other courses. Legacy Learning has come up with the tools for everything a student needs to become proficient at playing the piano or whatever course they choose.
Guarantee
You can learn and Master the Piano risk free. Legacy Learning wants their customers to be happy with their purchase so if you are not happy and return the course within 60 days they will refund the purchase price no questions asked.
Now it's up to you!