Beauty is not dictated by age and certainly not for an over 50 woman. Staying beautiful does not necessarily mean having Botox treatments as well.  Inner beauty is stronger than ever at age 50 and beyond; so show your beauty. Here are beauty basics to make you feel your best:
Health
Beauty means being healthy. Keeping your body properly functioning and in good shape, during the aging process, is a requirement. Eat healthy and stay active. Over 50 lifestyles do not mean expensive intervention. To stay fit and attractive do simple exercises – daily walk for about an hour, and try workouts with exercise videos at home. Also, take care of your skin. Good nutrition and drinking plenty of water is ideal for repairing damaged skin.Fashion
For all fabulous-over-50 women, no matter where we live and no matter what is your daily routine, we want to look our best. However, women over50 are often more cautious than ever about spending money on clothes. It is a sensible attitude. Try one new piece of clothing instead of buying a couple or try an attractive accessory that you can mix and match to your current wardrobe.
While there is a need for ladies fashion that is more conservative than what you wore in your 20s, you also don't want to look as though you are a scrappy granny. Fashion clothing that lies somewhere in a comfortable middle ground is best.
Loud prints are a lot of fun but best to avoid them. Women over the age of 50 should skip the younger look of completely covering themselves head to toe in prints. Settle for solid colors which doesn't necessarily mean dull or boring. Pair a plain top with a zebra-print clutch purse – elegant, and trendy at the same time!
Make up
Lips got thinner? A cream lipstick is a better choice for women over 50s than a matte or gloss. One of great makeup tricks is to use a neutral lip liner to make lips appear plump, and a sheer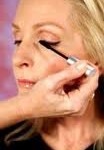 lipstick to go with it. A lip liner helps to define lips so choose a lip liner with its color nearly as to the natural shade of your lips and the lips should be outlined before applying lip color. For varying events, outfits, and moods, keep a few lipsticks of daring shades in your purse.
Mascara and eyeliners should be used carefully. Dark circles and dripping makeup around the eyes look awful, and is a big turn off for women over 50s. Use smudge free pencils to line eyes and brows. Also, be careful about using liquid foundation. It can emphasize wrinkles and cracks in the face. Use makeup to enhance your positive qualities to feel great and beautiful.
Attitude
"The years aren't always kind, but you can always be kind to yourself." Beauty that is not sincerely coming from inside you is only temporary. Unhappiness and low self-esteem will take the best out of a beautiful face even for younger women. Confidence is more vital when you hit 50 than at any time earlier in life, and these tips will aid to you to uphold your confidence. Laugh, love and chase your dreams -now's the time and no alibis are allowed.
Over time, we tend to pay no attention to our needs – our appearance and even our attitude withers but beauty is endless and it's not selective. A woman over 50 is beautiful by age alone and these basics should help her feel and look better.