If you were to ask a dozen or more individuals for advice on where is the best country to live when you retire, you will probably get a dozen different answers.
If you've been doing some
travelling yourself, you will probably already have your own favorite places, but would they be a good place to retire?
You are probably over 50  so I'm sure many of you like me have thought about the possibility of living either full or part time in another country when you retire. Like me you may  have even gone deeper and done some research into what various places have to offer. One thing for sure is over the past 5 or 6 years since I started looking at options the recommended top places to retire have changed more than once. These changing stats can often leave you none the wiser by the time you're actually ready and able to do something about it, so you really need to do a bit of research for yourself.
Obviously your financial situation will have a bearing on where you can even afford to live and the type lifestyle that you can have. If money is no object then the world is your oyster. It's more about deciding what you actually want your life to be about, and where you will be able to live that type of lifestyle. Even if you are fortunate enough to have adequate funds you still have other considerations such as family and friends. How often would you get to see them? Even if finances may not be a problem for you; it could be for others in your life, meaning that you may not get to see the ones you love visit you as often as you would like! Probably most retirees expect that they will have lots of visitors if they move to the sun. Would being in a country where they speak a different language be a problem for you? Are you prepared to attempt to learn the native language? Is it important to have an ex pats community in the area you are interested in living?
For most people one of the biggest attractions of going to live in another country is the fact that they can have a lower cost of living which is important when you are on a fixed income. Many want to maintain a good lifestyle or even improve their lifestyle while living on a pension. While many retirees may have a struggle to make ends meet at home they may live very well elsewhere.
What is your criteria when considering living somewhere else? My brother has lived in Florida for a number of years and has now retired. He travelled extensively during his working years giving him the opportunity to experience many countries. One of his criteria when considering moving to another place is that it has a major airport. For many it's important to know that if they need to visit loved in ones in a hurry they do have easy access to flights. This usually means being close to a major city.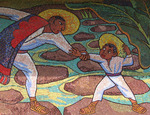 You need to think about the currency and what the exchange rate is, although it always fluctuates. How far will your income go? The climate is another big factor, moving to a warm climate sounds wonderful and we could probably all do with more Vitamin D. Does it get very humid, if it does could you handle the humidity? Do they get hurricanes and would that bother you? Check the weather patterns year round. Nowhere is perfect but find the place that offers you the best of what you want and what is most important to you.
Health care and safety is a huge concern for most wherever they are thinking about living. Many of the countries that are attractive to retirees also offer excellent health care. Many of these countries are places where people travel to have medical or cosmetic procedures done at a much lower cost than they could get it done at home. I have heard people say that they have gone to places like Costa Rica for health care and dental treatments. They have been able to spend a few weeks there, had a procedure done with recovery time for less than they would pay for just the procedure at home.
Safety and security will always be a concern. However there are many thousands of seniors that are living and traveling in these countries that have never had a problem and most say they feel very safe. Any country will have its problems and areas that are best avoided.
Mexico was considered the top place for retirees to live a few years ago. With its popularity over the years real estate prices have increased making buying real estate less affordable. The other thing that is on many people's minds is all the negative media due to the drug related crime. They are trying very hard to sort out the drug problems there. I do hope they can do that for the Mexican people and its tourism industry. Drugs are a world problem and not just a Mexico problem. Mexico is one of the favorites for North Americans. The Mexican people that I've ever had contact with are friendly, gentle, lovely people.
So whether you have your eye on Mexico, Belize, Panama, Costa Rica, Uruguay, Nicaragua, or Yuma Arizona do your homework. The best way to check it out is to go there and rent for a few months, live the life of the locals and see how you like it. One thing to remember though is that wherever you go there will be a settling in period where many things will probably frustrate you and drive you crazy. You will be wondering why they can't do things like they do at home, why is everything so laid back and everything takes so much longer, but you're not at home and you will adjust. Just be patient and remember why you went there in the first place.