When you're over 50, retired or not spending a few hours at the casino is becoming more and more of a popular way for seniors to find entertainment. Besides the excitement from the potential of winning there are other aspects which draw seniors to the casinos. If you have ever walked into a casino in the middle of the day you would be surprised at just how many seniors are playing the slots.
The casino is a place that many seniors feel comfortable going alone at night. Many go with a spouse or friends but whichever way; it's a place where they don't feel alone. Many single seniors find being at home on their own very depressing; an outing to casino is the answer for numerous seniors. It's one place where they feel they can go and forget their problems. While they may be able to forget their problems at home and in their life for a while they could well be creating other problems such as a gambling addiction.
Most seniors are smart gamblers, they set aside an amount that they can afford to lose and when that money is gone they will call it quits and leave. Others get deeper and deeper into debt; always believing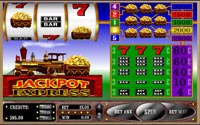 that they will win the jackpot and get all their money back and more. Unfortunately, many people have a problem quitting when they are ahead and that applies to gambling as well as other areas of our lives.
There are a number of perks when going to casino, besides being entertaining and fun it can be a lively place to hang-out plus players can get meals at reasonable prices. Plus players can acquire points by using a membership card. Also there is the attraction of the number of large prize drawers held at casinos.Those seniors most at risk of compulsive gambling are those that have life-changing events happen to them later in life, like losing their spouse, health issues, medications that may affect their judgment can all be a contributing factor to a gambling problem. Many seniors become depressed, lonely and bored and have little or no interest in their life. Gambling at the casino is a way they can get lost for a while so that they don't have to feel the pain of reality. Some of the signs of a compulsive gambler are trying to hide their gambling activities from family and friends, moods swings, borrowing money, selling belongings or using other funds that they cannot afford to lose.
It's easy to sit at the slots playing for hours without realizing how much time has passed. It's important to get up and move around frequently, walk around inside the casino, or outside if it's light and safe to do so. Do some people watching, go have a coffee or a meal. This will also help your money last longer.
A good way to prevent you spending more than you can afford is to take with you only the amount of money that you are prepared to lose. If you are going off on a trip for a few days with a group of friends to visit other casinos make sure you divide your money up to cover the amount of days that you plan to be there, otherwise you could spend it all on the first day and not be able to play the rest of the time, or you will be tempted to take out money you hadn't planned to use.
Online gambling is another issue to be really careful with. At least with the casino there is social interaction and getting out of the home. With gambling on line you can lose your money so quickly, it's just too convenient and so available. Online gambling is an addiction that can be easily hidden and often done without anyone else ever knowing until financial problems arise.
Like with most things moderation is best.