That was my question some time ago when I wasn't even sure what a kindle reader was or how it worked.  Things in the e-book industry have been changing fast since then,  I was hearing a lot of great things about the Kindle wireless reading device but the question is why buy a kindle reader?
You can't ignore the speed at which things change in the world of technology, and whether you are ready to accept it or not the day of the book store is fast disappearing in favor of instant access to downloadable books.  This is one of the reasons why more and more people are choosing to buy a kindle.
As a reader myself I decided I wanted to know much more about the kindle reader as like many other over 50s I want to do more traveling, and I like to read when I travel so I did my own review of the Kindle 3 and have since had the opportunity to use one.  I have to tell you I was not disappointed. I am really impressed!

Do you love to read and like most readers when you go away you like to take books with you? The problem is books can get heavy as well as take up too much space in your luggage. It\s getting more and more important to travel light.  If you are flying anywhere these days with all the no frills and cutting back on luggage. there's very little room for books.  I knew the kindle and e-readers in general are popular but if you've hung around an airport lately you might be surprised at just how many of these devices you will see being used.
Convenience is one of the key reasons why people choose to buy a Kindle. whether it's for travel or home use. . It's not just saving space in your luggage either, finding shelf space at home to keep all your books can become a problem too.  The Kindle solves these issues and offers so much more.
The Kindle 3G Wireless Reading Device is one of the most desired and most gifted items. Millions of people are already reading on a Kindle. It has become a best seller with numerous 5 star reviews.
The Kindle is Amazon's revolutionary reading device. You probably already know that Amazon is well respected and trusted by millions of people so it has a great name behind it.
It's so compact and convenient with its size being 7.5 x 4.8 x 0.335 inches. (190mm x123mm x 8.5mm) and Weight only 8.7 ounces (247 grams). The Storage capacity is 4 GB internal with approximately 3 GB for user content.
Here are some of The Kindle 3's many other features
•     Its new design is lighter and thinner-only 8.7 ounces
•    Easy to hold even with one hand
•    Easy page turning with a page turn button on both sides
•    Simple to use – Use right out of the box, no set up needed and you don't need a computer
•    Battery Life – from a single charge it can last up to one month when wireless is off. It lasts up to 10days when left on. Depends on use.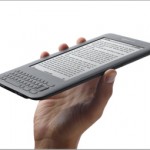 •    Get books in 60 seconds – you can search, find and download content in 60 seconds depending on signal strength
•    Global 3G coverage- Travel to over 100 countries and still get books in 60 seconds
•    No glare- you can read in sunlight
•    Adjust text size- there are 8 adjustable font sizes to choose from. Text is darker and crisper.
•    Shows sharp images and photos.
•    Built in Wi-fi – Kindle automatically detects nearby wi-fi networks.
•    Store up to 3500 book.
I have to agree with other users that say that even though the Kindle is a screen it reads like a real book and not a computer screen so there is less eye strain, also being able to read in direct sunlight without glare is a real bonus.
You can read newspapers as well as books. It has a PDF reader built in and can be password protected. You can lock your Kindle if you choose to.                                                                                                                                          There is an experimental feature; Read – to – me, it can read out loud English newspapers, magazines and blogs as well as books so it's your choice listen or read. You can also listen to music and podcasts.
The Kindle Store holds over 725000 e books plus newspapers, magazines & blogs. Most E Book prices are under $9.99 so you will never run out of reading material. You can also get a leather cover offered in a variety of colors to personalize your Kindle.
There is limited warranty and service on the product for 1 year with an optional 2 year extended warranty in some countries.
This product offers far more than I ever expected so whether you are over 50 or any age there's a place for The Kindle book reader in your life.  Reading is a wonderful hobby and pass-time as well as being educational. Is it any wonder that the new kindle reader is such a great gift for anyone!
There are so many very positive reviews that you can check out but here's just a few comments from some happy Kindle buyers.
5.0 out of 5 stars Not just for reading ebooks!,

5.0 out of 5 stars Perfect Gift for Any Age,

5.0 out of 5 stars Recently converted, I love my Kindle,

5.0 out of 5 stars Most Awsome Purchase,

5.0 out of 5 stars Excellent design, portability and materials.

5.0 out of 5 stars Love this!,

5.0 out of 5 stars Love, Love, Love it.

5.0 out of 5 stars Great reading experience

5.0 out of 5 stars Love My Kindle