So how do you know what your loved one would appreciate as a golf gift? Their personality will tell you a lot, so give that some thought before making your decision.  Do they have a great
sense of humor and would really have fun with a funny gag gift? If they are the more serious type they may not really appreciate the gag type of gift and would prefer something more practical. Then there are those that may like to collect things that they can have on show in their office or den; things that would display their enthusiasm for the game or be a conversation piece.
Are they a beginner golfer still building up their golf equipment?  Are they into gadgets or maybe always searching for new methods to improve their game?  Most golfers are always looking for ways to improve their golf swing. Once you have decided which category they come into you can at least have some idea of what type of gift that you are looking for that reflects their personality and needs.
Personalized gifts are always a nice touch and can have real meaning for the recipient. Does your loved one have a special brand, logo or design that they prefer? Make a list of what you think would really be something that they would like and appreciate then start shopping.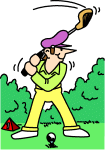 Depending how much you plan to spend and who the recipient is here's a few ideas. You don't have to spend a fortune:
For a smaller gift it's a good idea to make up a little bag of goodies such as golf tee, balls, sunscreen, and other reasonable little gadgets that are useful.  You could make a golf gift basket with a few more additional items such as golfing gloves, socks, a golf cap, and sunglasses.  A time piece is also a good idea as many golf players don't wear a watch while playing golf as it can be such a distraction. There are numerous other accessories plus fashionable clothing items.
If the gift you're purchasing is for a woman always remember that when it comes to golf equipment like clubs that the equipment is designed for women. It's important to have the correct equipment. The same goes for youth; they need the right equipment for them.  Having their own equipment will help them feel more comfortable and confident as they play the game, no matter what their level of expertise.
Gift ideas:
Medicus Dual Hinged Swing Trainer
I hope this information will help you buy the perfect gift for your loved one.
Happy Gift Giving