Tap in to your potential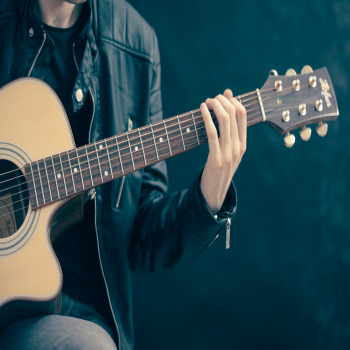 If you've had the desire of learning to play guitar but never got around to it then you need look no further than the Learn and Master Guitar program. Whether you are just starting out and need beginners guitar lessons, or you are an intermediate guitar player that wants to get serious by moving beyond your present level to master the guitar once and for all, this program could be the answer for you.
Pick up that guitar and start making music…
Is your guitar sitting in a corner but never used? Having that skill to play the guitar well would be a real achievement as well as very fulfilling and rewarding, and it's never too late to learn. For many of the over 50s, playing the guitar is one of those top of the list hobbies that you have wanted to pursue for a long time but never got around to. You tell yourself that you'll get to it one day when you have time, maybe when you retire. If learning guitar is on your list now is an excellent opportunity and could be the perfect time to pursue that goal. Procrastinate no more!
Learn different genres at home
Why should you choose Learn and Master Guitar? Well for one thing it had the honor of winning the Player's Choice Acoustic Guitar Awards 2001. It was also the winner of the 2008 Acoustic Guitar magazine player's choice awards plus getting an award for Excellence in Education. Learn and Master Guitar course is widely recognized for the best home instruction course for learning the guitar that you can get anywhere. It offers a step by step format with each step building upon another. There's no need to ever feel lost on this program as you can repeat the lessons over whenever you want to. You also get to learn to play different genres including blues, rock, country, funk and jazz. And best of all everything you need is in this one course.
Learning to play an instrument can be daunting at first.
Learning to play the guitar or any instrument can seem daunting when there are so many different things to learn, so in all reality you can't expect to do it overnight. Private lessons are not for everyone, they can be costly as well as inconvenient. And taking one lesson a week may just not keep you motivated enough to keep going.
The Learn and Master Guitar course is step by step video instruction that will take you from whatever your skill level even if you are a total novice. You will learn beginner level onto intermediate then advanced guitar playing. If you are already intermediate you'll just skip ahead.
The Learn and Master Guitar Course contains:
• Twenty DVDs – this is the real heart of this course
• 5 Jam-Along CDs – this is where you have some fun as you jam along with an actual band.
• 100 + pages lesson book – this contains all the exercises and songs.
• Professional Instruction by a real pro – Steve Krenz is an incredible teacher and has played professionally for 20 years.
• Online community and student support – this is available to you for support and ongoing encouragement. You are able to post your recordings of songs and get feedback from Steve Krenz and other students.
All this is achievable right in your own home at your pace. No more excuses!
Learn and Master is continuing to expand its excellent courses and has also released its Spotlight Series which consists of:
• Spotlight Series on Blues Guitar which included 6 DVDs with over 8 hours of practical instruction. The essential Blues Guitar techniques are explained simply and thoroughly.
• Spotlight Series on Guitar Setup and Maintenance with Greg Voros who shows you how to set up your guitar and make adjustments and how to properly restring your guitar. This course consists of 3 DVDs.
CLICK HERE to get more information and order your Learn and master Course Guitar Course
Legacy learning offers learning new skills, brushing up on old ones and great hobbies for everyone. Learn and Master a musical skill, painting, photography, ballroom dancing and even sign language. Check out options by clicking on the banner below