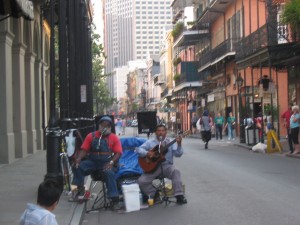 The situation in New Orleans back in 2005 should have been a wake-up call for us all. Having been in New Orleans just 2 months before Katrina hit and then later seeing on television the devastation that was caused was unbelievable. We had been at the centre where all those people stayed for so long. The hotel we stayed in had windows blown out, the streets where we walked, and the friendly people we met were changed forever. There is no way I could ever even imagine it could happen – but it did. Hopefully we will never see such an event again. It's important that we take precautions in our own every-day life too!
Be Prepared
You never know when an emergency situation may occur.  There may be severe storms, accidents and many other unexpected situations that happen in life. There have been many incidents of an afternoon hike turning into a Search and Rescue mission. How many people have we heard of that have gone off the road in their vehicles due to icy conditions, or from falling asleep at the wheel etc. and sometimes they have been missing for days. I'm sure not one of these individuals got up that day and thought they were going to end up in a situation such as that.
Safety for Outdoor Lovers
For the outdoor lovers particularly, the hunters, fishermen, rock climbers, skier, How prepared are you in the event of an emergency, an accident, or even getting lost? If you ever found yourself in such a situation you would hope that you would be capable of making some important decisions to get you out of the mess you find yourself in.
Smart Planning
Making smart planning decisions can help to avoid accidents in the first place. And, for those situations that arise that you have no control over at least be able to maintain self control and act accordingly to the situation at hand. Providing that you are not severely injured and in fairly good physical condition the last thing you would need is to be too stunned by the problem you are facing to be able to make decisions that may save your life or someone else's. Here are some tips in case of emergencies:Emergency contacts Always let someone else know where you are going and when you plan to return. Keep phone numbers and addresses of emergency contacts. You should have them written somewhere that is always with you and /or use your cell phone to store important numbers in. Cell phones have helped save a lot of people that have got into difficulties. You can't always rely on it though as there may not be service in the area where you need assistance. Always keep your batteries charged.
Hunters be seen be safe
If you are going on a hunting trip, be prepared that you could come in contact with other hunters in the same location. Be sure that you can be seen.  Wear a bright colored vest and hat that can be seen by other hunters. If you go out in a group always try to stick with them and if you do need to all spread out, keep your cell phones or some form of communication with you at all times. Remember to always have the safety lock on the gun when you are not firing. There have been many accidents due to unlocked firearms while hunting. Utmost safety should always be the top priority.
Lost -Be found
Having locator flares are also a good idea when going off the beaten track on land or by water. If you are going on a long drive, always check your vehicle prior to leaving. Though it may not sound that important, this is the first safety measure you should take. This is especially important if you are going to be traveling through the mountain passes during the winter months.
Prepare vehicles
Conditions can change in the blink of an eye. Check tires to see if they are okay and that you have adequate gas especially when planning to drive in remote areas where you may not find another gas station for quite some distance. Keep your tank topped up when you get the opportunity. Carry a shovel in the event of getting stuck in snow and carry emergency supplies.  Always wear a seat belt when you are driving, as well as your passengers.
Medication
If you are on any kind of medication that you must take, then be sure to take it with you. You might need to take it on the road and other drug stores (if you can find one) may not have your specific kinds of medicines. If you use an inhaler, then check to see if it is full and keep it somewhere you can easily reach.
Emergency tools
Always take a flashlight, matches, a whistle and a first aid kit with you. It's also a good idea to keep a long rope in the back of your car when going fishing or hunting in case anyone falls in an area where they are out of reach, you may be able to help reach them with a rope.
Around water
If you are a swimmer, check the surroundings and the depth of the water. Locate the life guard if there is one, and make sure they can see you. At the more remote lakes and beaches you may not find any lifeguard on duty, so you're on your own.  If you are at the beach make sure that you do not go too far out. You can get into difficulties and someone else may risk their own life in order to try to save you. Don't take unnecessary risks! Sensible footware
Wear sensible, protective footwear.
Hiking in flip flops or sandals is not a good idea. If you need to go into a rugged area or forest, then you should wear boots to avoid rocks, attacks of little insects and protect your feet and ankles. The last thing you need is to be stuck somewhere because you can't walk.
Check the weather
Keep a check on the local weather forecast- it's amazing how fast the weather conditions can change especially in some areas and at certain times of the year. If there is a possibility of severe storms or there is some kind of natural disaster, you should immediately seek a place for shelter.
Where will you be?
If an emergency strikes you could be at home, work or even be on the road somewhere. Where you are located in the world depends on the types of natural emergencies that can be caused by extreme weather. We should be prepared to be self sustaining for the first 72 hours after an emergency or disaster like an earth quake. We cannot rely on anyone else. They will probably be dealing with the same situation as we are. 
Do not go out during or immediately after the storm or disaster takes place. If everyone gets into their cars and head for the roads there will be chaos for sure. This will prevent emergency vehicles reaching those most in need.
Prevention is always best
It is said that prevention is better than cure. This applies to every aspect of private and public safety. If you use the measures above, you will be able to withstand many emergency situations. Everyone should at least have a basic emergency kit and essential needs in order to be prepared in case of emergency. We will always need water –food- heat- first aid- and a radio to keep us informed of latest news updates on situations. Be prepared and hope that you never need to use it.