Cutting back on the number of gifts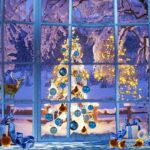 It's coming to that time of year again when many of us turn our thoughts to the holiday season and beginning the search for affordable gifts for family and friends. Personally,  over the past few years I have cut back a lot and now mainly get gifts for my children and grandchildren.
My Christmas card list is getting shorter too. Each year I pull out my list of the people that I usually send cards to but with each year that passes  the shorter that list is gets as people I know have passed away.  I don't know about you but I don't enjoy Xmas shopping like I once did.  There was a time when I used to really enjoy it. Back in the UK  my best friend and I used  to have our annual Christmas ritual where we would take our kids and go into the city for the day. Thinking back it was a bold thing to do as we both had 3 young children.  We'd take the kids to see Santa and the Christmas displays in the big department stores, then we would take a break and have a nice lunch. We'd even manage a little shopping done too.
Buying gifts online
Things change, my friend is gone and the kids are all adults.   So a couple of things happened I discovered  the benefits of buying items on line. It started when a few years ago I was looking for a new battery for my phone.  I went to a local store and the price of $38 they quoted was ridiculous. There was no way I was going to pay what they wanted.   My brother told me what he was paying online for batteries for his family phones, when I checked  online for the type I needed the difference was amazing.  While I like to shop local when I can, and I realize businesses have overheads, I have to think of my own budget too.  I ordered 2 batteries delivered to my front door for less than $10. I was very happy with my purchase.
Gifts delivered to your door
Maybe you are already an online shopper but if you haven't done so yet  it's certainly worth exploring it. Once I discovered the great deals to be had online I started to check out other things that I intended to purchase.   I found so many things are considerably cheaper online. Another benefit is that I didn't have to go searching around the stores and items are delivered right to my door.  I wouldn't buy everything online as certain items like shoes  I would want to try on for size but if you've had the brand before or tried them in the store you can save money by ordering them online too.
Online shopping benefits for everyone.
It took a while for me to feel comfortable enough to give my credit card information out to buy online. I had my reservations like many people have. Understandably,  the older generation are generally more suspicious and afraid of making purchases online because we do hear of so many scams, and they should be cautious.  Actually once you get over the fear hurdle, making online purchases delivered to your door can be a great benefit to the older generation, they can shop in the comfort of their own home and take a lot of the stress off them. The key is to be careful and use reputable companies.
Personally, I and many people I know use and like Amazon which I have to say I have had great experiences with them.  For years they were known for finding great deals on books online, but Amazon has grown in leaps and bounds.  Now you are able to get anything you need. They have different departments  from home and garden, electronics, computers, jewelry, clothing, health and beauty, for baby, sport equipment, bikes, you name it they have it. They have their famous Kindle book reader plus and all the kindle books too. Buying online is one way to save some money on your gifts.
Use your creative skills for making Xmas gifts
Not everyone wants to buy gifts, some people like to make personal gifts. One year I made different types of biscotti and packaged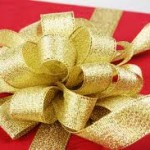 them up in cellophane bags and Xmas ribbons, this was a popular gift. If you like to cook baking is usually a welcome gift. Some people like to make hand crafted gifts like jewelry, soaps, knitted items, sewn items. Gift baskets are a nice idea too. You can buy their favorite goodies or other items like gardening gift basket, with seeds,  gardening gloves, and small hand tools, or a golf gift basket with golf balls, tees, golf glove etc. You can be creative with the containers too, they don't have to be baskets. Use your imagination and you can put an attractive gift basket together.
Don't get into debt for gifts – give only what you can afford!
With the economy still in poor shape for most people, it certainly isn't a smart idea to get into debt buying things that you really can't afford. It's easy to get carried away with over spending this time of year  then getting hit with the bills when the New Year arrives. Starting the year with less debt is a much smarter idea.
There is no shortage of gifts, and if you enjoy the hustle and bustle of the crowds and line ups go for it and enjoy.  It's when you are on a fixed income or limited budget or can't or don't want to fight the crowds that you have to be creative and find the best gifts without breaking the bank. And that's why shopping online, making your own gifts and local craft fairs get my vote .