Once we reach 50 and over many of our main concerns are related to health, finances and the realization that retirement is quickly creeping up on us. There are certain age milestones that are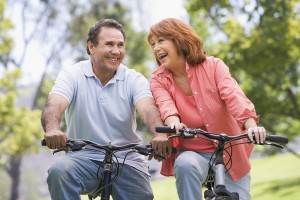 more of a wake-up call and turning 50 years of age is definitely one of them.
There is little doubt that for many over 50s health and finances are very genuine concerns.  Many of us realize that we are not as healthy and fit as we should be, making it time to make some serious changes to our lifestyles if we want to have a healthy retirement. Also many of us have not taken our retirement planning seriously either, we often get fooled into thinking that it's much further away than it actually is. When you consider that once you retire you could very likely need to have enough money to sustain you for 30 plus years can be pretty daunting for most. If this looks as if it could be a problem that you may be facing then you can't bury your head in the sand. You need to consider your options.
During the final years of their working career many will be earning more than at any other time during their working life which can lead to a sense that their financial situation is secure. This is also the best time to make additional payments into your financial plan. If you really are falling short of your retirement plan then it's probably a good idea to consider working a bit longer while you are still able. It's important to try to get rid of debts before you retire if possible.   This can be a challenge though with the high cost of homes these days. A lot will depend on where you live but places such as Vancouver where I live the house prices are ridiculously high, making it almost impossible for people to become mortgage free by retirement.As we get older we may need to adjust our exercise program. We all know the importance of exercise and as we age it continues to be a priority, it can help alleviate many health and mental issues. Besides maintaining a healthy weight exercise is known to relieve stress and depression as well as help maintain mobility and eliminate or delay some complaints such as arthritis, diabetes, high blood pressure and cholesterol.
As far as how we look over 50 a lot is up to us. Many people look at their best over 50 they have learned over time how to take care of their skin and have a hairstyle that suits them and also know what looks good on them. It can take years to really figure all that out. Besides the materials and cosmetic products that help; many over 50s are more comfortable with themselves. They don't have so many hang ups and accept who they are and it shows in their confidence.
Being over 50 years of age can also mean that your kids have left home or soon will so you may want to consider your living space, where you want to be and what type of home best suits you as you are facing an empty nest.
Turning 50 can be a bit traumatic for some but it has its many good points so if you haven't found a way to make it work well for you yet then it's time to start creating your plan.
Author bio: Shirley Price lives in beautiful Vancouver BC. She has written a number of articles as well as a workshop on planning a life for retirement. She is certified in NLP, EMDR and began studying life coaching in the mid nineties. Shirley is the publisher of www.lifebydesignover50.com a site for the over 50s.