Regardless of age to find yourself with thinning hair or hair loss of any type is a blow to your self esteem, especially when we've always been told that our hair is our Crowning Glory. Nothing can ever really replace your own natural hair.  Fortunately, today there are options to prevent and in some cases stop your hair loss.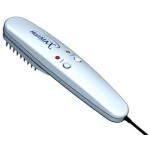 Hair restoration is something that has always seemed elusive except if you have lots of cash and are prepared to have a hair transplant or go to an expensive hair laser clinic.  Now there are  options that are available and more affordable for those that seriously want to stop hair loss and are willing to commit to it. The topic of thinning hair and hair loss is of great concern to many of us especially over 50 as we see more evidence of thinning hair as we age.
" Years ago people had to accept the fact that there really wasn't much hope to stop hair loss,  if you had male balding there was nothing you could do about it.  As a man it was expected that some degree of hair-loss would happen at some time in your life. If you ever wanted to be seen with hair again it meant a wig or toupee.
Women are becoming more bothered by thinning hair and also want help to regrow their hair.  Products like Rogaine for women as well as Rogaine for men are growing on  popularity.  ROGAINE is the first topical brand that has been approved by the FDA to regrow hair.  Most of the user reviews on these products are very positive, but like any product it's not for everyone. Some people give up before they give the product a fair chance and others just don't find the product suitable for them.
The fact is these days many people would rather opt for natural products and remedies which is totally understandable.  There is lots of evidence showing that the amount of people looking for alternative treatments to the harsher chemical products is always on the rise and if you can find a natural remedy to your hair loss why wouldn't you? There are remedies that are very cost effective and easily attainable often you will find what you need is already in your own kitchen.   You'll be interested to discover a lot more about this in The Hair Loss Remedy Report For Women.
Hair transplants first became available for the rich and famous. The first time I can recall hearing about hair transplants was when Elton John had his hair transplant surgery about 30 years ago. It was big news back in the UK at that time.  Just like so many other men he had lost a lot of his hair by the time he was 30 years old. He not only wanted to stop hair loss but to get it back. Another celebrity had shared that he had got a hair transplant which led Elton John to pursue this option and he's had hair ever since.
Discovering ways to stop hair loss  has come a long way since then. Even so we all know someone that would love to reverse the effects of hair loss, maybe even you personally. Men usually either have the male pattern hair loss or their hair line will recede. Women usually retain their hairline but as we lose up to 150 hairs a day, this fallen hair is often replaced with thinner hair creating an overall thinning. But like men, many women find the top of their head and crown are the areas where the hair is notably thinner.
Female hair loss is a big problem too. A woman's hair loss can begin at any age even as young as in their teens. It affects 40% of women and is often hereditary. There are a number of things that can cause a woman's hair thinning or hair loss, especially anything that can create hormonal imbalance such as menopause or child birth etc. The good news is that female hair loss is now being taken seriously. over the last decade laser hair therapy has helped thousands of women in Europe and the US to stop hair loss and even regrow their hair.
I was in the hair industry many years ago after I left school.  Whether it was the use of various products over the years, genetics or whatever my hair is a lot thinner than I would like it to be, especially on the top of my head. It's not that noticeable most of the time, except by me! I can live with it but I'd sooner not.  Now that there are options available I intend to do something about it!
The best option to stop hair loss and regrow hair up until now seemed to be hair transplants.  However, it is surgery and like any surgery should be given considerable thought, plus you have to take the cost into account.  However for some this is still the best option because once a dying hair follicle reaches a certain point there isn't anything that can bring it back to life. For this reason it's important that you treat your hair loss as soon as possible! Over the years many have tried numerous hair products that promoted thicker hair with little or no results. 
Since the hair laser being made available for home use many are seeing positive results with new users very optimistic about the hair growth laser. There are clinics that offer laser therapy for hair loss but for many people it is still too expensive to get enough sessions to make the difference. There are a number of options when it comes to choosing the right hair laser device for home use.  One of the devices that's a very popular choice for many is  the HairMax LaserComb After reading some user reviews on these product some love their hair laser device and swear by it and others not so much. 
It is extremely important to realize that you will not see overnight results with these types of treatments, so to be fair to yourself and the product you choose you have to give it a fair chance to do it's job.  If you do not follow the recommended instructions and commit to doing the treatments on a regular basis as required you will probably not get the results that you want.  This is what happens in a number of the cases where users say that they are not happy with the product. It's often nothing to do with the product but the fact that they are not using it as directed. 
Hair has a growing cycle and sometimes it can take months for hair to grow depending where it is in the growth cycle. This product could be a great option for some and could be worth checking out. the Laser comb  cost a lot less than going to an exclusive  hair clinic, plus you have the convenience of having the treatments at home. If you are serious to stop hair loss here once again are the important things to remember always follow the manufacturers instructions. Commit to using the hair laser device or any other product as directed. Be realistic and patient; results won't happen overnight.  It could well take a more than few months before you really see significant change. Watch these videos from The Doctors TV Show on hair laser therapy  
Related Blogs