Red Light Therapy for Anti Aging and Blue Light for Acne
By the time we reach 50 and over most of us have already been searching for anti aging therapies to help us achieve  a more youthful look. During the search for better skin some individuals have been fortunate enough to have  discovered something that they find is helpful for their skin. There are many that have been  using red light therapy for their aging skin with encouraging results and  others are still a bit dubious and unaware of the  benefits that red and blue light treatment may offer them.
Skin begins to change as we  age
Of course like many other things about us our skin changes as we age.  We tend to get more blemishes, age spots and rosacea, not to mention the dreaded wrinkles.   More recently many have discovered that red and blue light therapy has shown  great promise as they have made it a part of their regular skin regime. Some have found it really beneficial to their skin problems.
Stimulates the growth of collagen
Both red and blue light therapy can have a lot of benefits when used correctly. With the aging population skin is a big  reason that more mature individuals are interested in knowing more about led light treatment.  One of the functions of red light therapy is to stimulate collagen production.  It's the breakdown of collagen and elastin that creates fine lines and wrinkles as we get older. This type of treatment could also assists with enhancing your skins cellular action as well as helping fade  those dreaded age spots and hyper pigmentation.
Light Therapy has other benefits besides skin care
Light therapy has other uses too as in helping with the winter blues by helping with a condition called SAD Seasonal Affective Disorder which happens more in some parts of the world than others. some people really are affected by the lack of light and can cause them to become depressed.  Another use is in helping with joint pain and discomforts  there are light devices that can help ease the pain and discomfort so don't discount light therapy as a fad it has scientifically backed evidence.
The key is to look young for as long as possible
It's not always an easy task but we have to check out our options when it comes to skin care, of course  we want to stay looking and feeling as young as possible for as long as we are able. Let's be honest, when we look in the mirror and notice a few more fine lines, age spots or some type of skin blemish that wasn't there before we would like to turn back the clock.  Failing that, most of us plan on trying our best to stop it in its tracks before it gets any worse. We are not prepared to give up without a fight when it comes to our skin and trying to maintain a youthful look.
Wrinkles are a big deal, especially when they first show up.
Maybe others don't even notice that you have an extra little wrinkle here and a fine line there but you do!  Any change no matter how small or insignificant it may seem to others could be a big deal to you.   Our skin is aging all over our body but the changes are particularly evident in the face. Maintaining the skins tone and texture is well worth the effort.
Red Light Therapy For Anti Aging
There are lots of products available on the market so much so  that it can be really confusing to attempt to find the right one for you.  When you first  started to notice those fine lines and wrinkle's you probably began right then trying out various products looking for a solution to your aging skin and ways to restore a more youthful appearance. A healthy lifestyle always helps, healthy eating, exercise fresh air, adequate sleep and no smoking will make a big difference to your skin, but a bit of extra help is probably required too.  More and more people are opting for natural remedies they, don't want to take any more risks with their health by consuming anymore synthetic or harsh products internally or externally.
When acne is a problem
Striving for good clear skin is a lifelong challenge for so many of us. Acne is a huge problem for a staggering number of people regardless of age.  Bacteria on the skin is one of the primary contributors of acne  which is  especially challenging for  the young.  Many have found it difficult  to find an effective acne treatment. Even as they get older many people are still plagued with acne  on their face, backs and other areas. This is where blue light therapy can assist as it kills the bacteria that is causing the acne.
Nobody's Perfect we all have flaws
We all have something about ourselves that we would like to change and I  am no exception.  I was always very fortunate in having clear skin, that is until I reached my 50's.  As a teen I didn't suffer with bad skin like many of my friends did.   I got  the odd spot once in a while but that was all. So when I reached my 50s and found that I was starting to get skin blemishes and was starting to pay for the sun tanning of my younger years with sun damage it was a bit of a surprise.  Probably like most of you I started checking into what types of treatment and remedies that are available for my aging skin. It was during my search that I came across phototherapy light treatment. I discovered  that while it may not be for everyone  a lot of people are seeing positive results using this treatment.  Using red light therapy for anti aging and blue light therapy for acne the reported results on improved skin texture and tone appear to be very favorable.
A option in the skincare industry that's growing in popularity
Phototherapy is still relatively unknown to a lot of people but it is one of the fastest growing areas in the skin care industry. It has been used in clinical settings for more than a decade and is showing to be a safe and effective treatment for acne and other skin problems.  Scientists from around the world are recognizing the benefits of phototherapy for skin healing.
What is light therapy?
It was NASA scientists that first researched the power of LED (light emitting diode) the technology of photo light with plants cells and later discovered it produced a similar effect on human cells. Because of our skins ability to absorb infrared light it becomes an energy source able to stimulate cellular regeneration. It can help take years off your looks by reversing and controlling the visible signs of aging. Knowing that this treatment is now available to the general public is one thing,  but the good news is that now you are able to get it at an affordable price.  There are exclusive laser clinics that you can go to for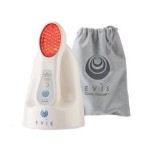 treatments which may be great for some people but for others it may not be affordable or convenient.  The great thing is now you can have your own red or blue light therapy device  to use at your convenience at a fraction of the cost.
There are a number of great portable and safe red and blue light therapy devices that you can choose from with a range of price tags.  There's also a lot of positive feedback available. It really depends on what your needs are and affordability.  You may want to check out the EVIS MD Platinum Light Therapy System to address fine lines, crows feet  and other aging issues, or the popular Baby Quasar blue used for acne, and red recommended  for fine lines, wrinkles, hyper-pigmentation and other skin issues.  If a hands free device is of more interest to you there is the DPL Deep Penetrating Led Light therapy. It has a dual purpose with benefits for both skin care and rejuvenation as well as for use on sore muscles, joints and tissue. The DPL deep penetrating light therapy device comes highly recommended.  It is larger than the other devices mentioned but covers a larger area at one time plus you don't have to hold it while doing the treatment. A very popular easy to use  and probably one of the popular devices available on the market is the ANSR BEAM device. It is well priced and like the other devices mentioned here it offers a way to rejuvenate and treat the surface of the skin safely, reduces fine lines and wrinkles, improves skin texture, reduces pore size, and redness.  With this particular device you do have both the blue light which kills acne causing bacteria, plus the anti aging Red light  all in a compact size unit.  The ANSR beam is a very easy to use home facial system that can be used at your convenience, it's size makes it easy  to take it with you when you travel so that you don't have to miss out on a treatment. The great thing with all of these devices is that you can use them in the comfort of your own home.
How to use the ANSR Beam
To use the BEAM you just have to slowly glide the light back and forth over the area you wish to treat. For the treatment with the blue light for acne you push the ON button once, the treatment lasts for 5 minutes.  For the anti aging Red light treatment you push the on button twice, this treatment also lasts for 5 minutes. The BEAM will turn off automatically once the 5 minutes is up. The Beam can be used daily. You could start to see results within the matter of weeks.
Patience is needed for results
As with most treatments these light therapy devices will not work over night. You have to be committed to using it on a regular basis  and be consistent with the treatments. Just like taking on an exercise program you can't do it once and expect life long and amazing results.  Patience is required so you have to decide if it's worth it to you. It's not going to be the answer for everyone as people experience different results . However in all probability some dissatisfied users of these and similar devices are because they have not used the device as directed and or quit the treatments too soon. While this is not always the case  remember to have patience and don't expect miracles.       
Additional interesting information and video's on light therapy
While most of the interest from the general public may be interested in red light therapy as a way to help with various skin conditions, it's well worth noting that this is by no means all there is to light therapy. Light therapy wasn't developed with wrinkles, rosacea and other skin issues in mind. That is a by product of the research that was done by NASA a number of years ago.  The medical industry is way more interested in the benefits it offers  a number of other health related issues. It would appear that they are impressed with results from treatment with light therapy. Naturally there is usually skepticism with something that you don't know about, and so there should be. I think when you see just how many benefits there are from red light therapy in general it may answer a number of questions that people have, such as are there any side effects, is it harmful etc. I found two very interesting video's that I've added below  while not related to beauty you may still find them interesting. It involves other ways light therapy treatments are used. One video shows how it's being used to help some cancer patients. The other video, while it has some unpleasant visuals of before and after treatments for patients with severe health problems. Although these specific video's may not be of interest to you they are here if you decide that you want to watch them.

Link to this page

Link to this page
Copy the code below to your web site.