By Shirley Price
Play better golf
The World of golf seems to be growing daily and the amount of golf gadgets and training aids are becoming more and more popular gifts for all occasions. Whether you're a novice golfer or a pro there's always room for improving your golf game and there are a number of tools available to help you do this. Every golfer wants to play better golf and the best way to do this is to improve your golf swing.
Becoming a confident golfer
Golf is one activity that can be enjoyed equally by men, women, and youth alike. It is a social and healthy way to spend a day with friends or family on your local golf course. It's a good opportunity to catch up with a group of friends and have some fun on Ladies Day or Men's Day too. Like all activities golf can be a bit intimidating when you're first starting out. There's a considerable amount of skill in learning a proper golf swing and becoming a confident golfer. It takes time to learn a new skill and even more time to become consistent with it.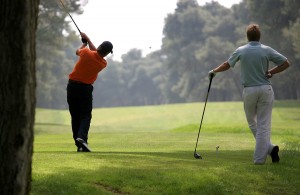 Golf training aids
The fastest way to learn any new skill properly is to get an expert to give you lessons, whether it's learning to ski, dance or how to swing a golf club. However, this can be quite costly and beyond the financial means of many. There is also the inconvenience of having to fit into someone else's schedule. There are other ways to learn, some people like to read, others to watch DVDs and there are also a number of training aids when it comes to learning the best golf swing. So if you are going to invest in a golf swing training aid why not get the #1 seller the Medicus Dual Hinged Driver.
Getting feedback
There is no substitute for practical application. Yes a book or magazine will give us some tips and you may watch others show you the correct way to swing a club or putt but all the watching and reading in the world will not give you the experience of actually doing it yourself. You have to know what it feels like to hold the club and swing it and see the results that you get. Having people give you tips and techniques is great and can be very helpful but the chances are they are not going to be around to tell you whether you are doing it right or wrong when you put it into practice. So you need something that will tell you! The patented Medicus Driver will do just that.
Practice makes perfect
Whether you're driving off from the tee or using your iron to take you to the green your golf swing technique is critical to the results that you will get. So for any golfer, working on your golf swing is crucial to getting the results that you want on the golf course. The old well known saying "Practice makes perfect" can be so true but if what you are practicing is not correct it is not going to bring you the results that you want. When you're practicing your swing you need to know immediately whether your swing is correct or incorrect, if you are making a mistake the last thing you need to be doing is to keep on practicing the mistake. One way of finding this out immediately is by using the Medicus dual hinged driver. Because of its dual hinged design this driver will give you instant feedback so you won't be fooling yourself and creating bad habits. By practicing with this device on a regular basis you have the opportunity to become precise and consistent on the course. You will know how to swing a golf club, there will be no more guessing.
Develop muscle memory
If you watched the best golfers they are confident in their performance. They are usually accurate and consistent not to mention precise in their moves whether the teeing off or putting. They know their own capabilities and how many shots they should take to put the ball down. They have developed muscle memory by consistently practicing the correct moves.
Medicus dual training pack
This best ever selling piece of equipment The Medicus Dual Hinge Driver is available in Right and left Handed for men, and right handed for women and Junior's. Medicus also offers the Medicus Dual Training Combo which consists of the Dual Hinge Driver and the Dual 2000 5-iron which comes with a bonus of two DVD's. This is a great choice for anyone that is serious about enhancing their golf game.
Let's not leave out the importance of putting especially when 40-50% of your golf game depends on it. Medicus also has the Medicus Putter Trainer. It is a dual handled aid that you attach to your own putter. It will help you manoeuvre a straight putt by training your shoulders to move in a specific way and to keep your ball on line.
Medicus offers a 60 day money back guarantee so you have nothing to lose but think about how much more you can gain, including confidence and a great swing.